The New Standard For Recovery
A Healing Environment
St. Gregory Recovery Center offers an advanced rehab program like no other in the United States. When you enter into the care of the St. Gregory Center, you are able to find full recovery in mind, body, and spirit. Our Program allows guests to cultivate the confidence and strength needed to make the decision to leave behind their drug or alcohol dependency.
Individuals struggle with different issues and it is essential to be in an environment that is conducive to confronting these issues and working through them. Often, people will turn to drugs or alcohol to create a sense of artificial happiness in order to cope with their personal issues. These issues often include low self-esteem, depression, and an overall feeling of worthlessness. Being in our healing environment encourages our guests to begin developing leadership skills, assertiveness (which is key to making positive choices), and greater levels of maturity. While most who take drugs or alcohol are able to "walk away" and continue to lead productive, healthy lives, there are some individuals who make the choice to continue using drugs or alcohol as the problems that surround them amplify. It is this unintuitive response to unhappiness that can necessitate the need for a retreat.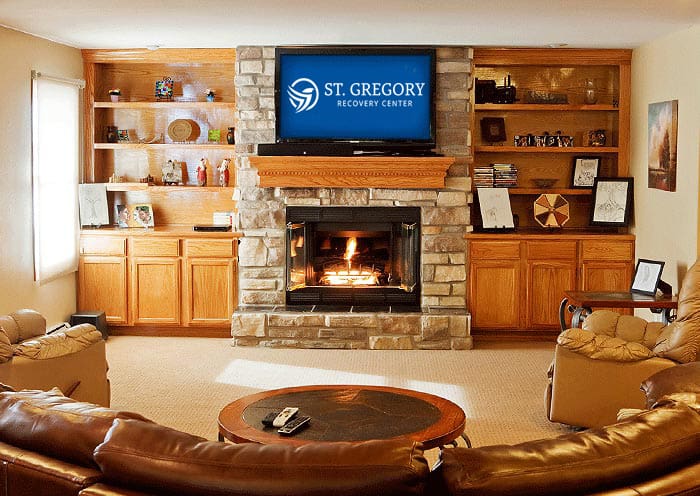 Finding Permanent Recovery
Rehab at St. Gregory helps guests learn the new skills that can empower them to make the positive choices necessary to abandon their addictions and lead fulfilling lives. Individuals who are struggling with dependency can learn how to apply their new, positive, decision-making abilities into a variety of situations that pertain directly to their lives. In contrast to the cold, clinical environments of most hospital-based drug addiction recovery programs, we offer a warm, caring environment to promote enrichment and learning.
Take a tour of our facility (images below), or begin your path to permanent recovery by calling 888-778-5833 today.
Facility Photo Tour
Our graduates tell their stories…
When first arriving at St. Gregory I had mixed feelings about the health and wellness workouts. I came in at 136 lbs and didn't think it was possible to reach...
- Chris
The good life is not merely a life free from addictions, physical and/or psychological—addictions that usually are the outward manifestations of deeper problems—but a life lived in harmonious balance, free...
- Matt
I came to St. Gregory's at my all-time worst—physically, emotionally, and mentally. Having gone through a bad rehab experience once before, I had been very reluctant in succumbing to that...
- CJ
No matter where I start my thought process when reflecting upon my time before, during and after St. Gregory's, I always seem to end up in the same place in...
- Kaele