The New Standard For Recovery
On-Going Support for Graduates: Recovery Coaching
Recovery Life Planning is a valuable component of the St. Gregory program. After graduating from the St. Gregory Center, guests will have new life skills to return home and begin a new life.
Throughout the course of their stay, a "recovery plan" is developed around those tools. This plan entails both short-term and long-term goals that they have identified for themselves, as well as detailed steps to achieve those goals. It is not a short sighted effort to simply maintain sobriety, but it is focused on the positive aspects of one's life and the long-term accomplishments a person wishes to strive for. It is a new outline toward the personal satisfaction and fulfillment previously sought through addiction and substance abuse. A recovery plan will incorporate several elements, including career aspirations, relationships, health and wellness, community service, and quality of life. It is completely individualized and based on the needs of each guest according to what is necessary to find true purpose and happiness in their lives. Implementing this plan is where the real-life progress begins.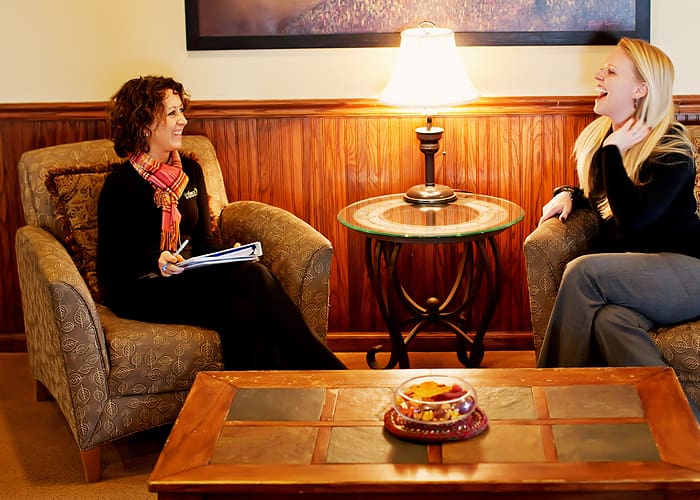 After graduation from the program, guests will be in communication with their Recovery Coach while they work on implementing their recovery plan. Mentors are always available for support, to answer questions from family members, and to help utilize the tools learned at the St. Gregory Recovery Center.
— Current clients and graduates must have signed a release of information for St. Gregory staff to disclose any information.
St. Gregory Recovery Center strongly encourages our graduates to participate in SMART Recovery®, a global structure of support meetings that include tools our clients will learn during their stay at our Recovery Center. Here is an overview of SMART:
Are you familiar with SMART Recovery®?
by Shari Allwood, Executive Director, SMART Recovery®
SMART Recovery® supports individuals who desire to abstain from any substance or activity addiction. (The SMART acronym stands for Self-Management And Recovery Training.) Our program utilizes a collection of scientifically proven techniques from Cognitive Behavioral Therapy, Rational Emotive Behavior Therapy, as well as some motivational techniques.
SMART Recovery®'s mission is to offer no-fee, self-empowering, science-based, face-to-face and online support groups for abstaining from any substance or activity addiction. There are currently over 450 meetings worldwide, and daily online meetings.
SMART Recovery® provides a 4-Point Program® that includes the following components:
Point #1: Enhancing and maintaining motivation to abstain
Point #2: Coping with urges
Point #3: Managing thoughts, feelings and behavior (problem-solving)
Point #4: Balancing momentary and enduring satisfactions (lifestyle balance)
A variety of tools and techniques are employed for each of the above-noted points.
Our program is abstinence-based. Point #1 helps people stay committed to abstinence. Point #1 and its tools are extremely helpful … an example being a Cost/Benefit Analysis, which can often help individuals determine why abstinence is the best recovery path. Newcomers are invited to attend several SMART Recovery® meetings, to gain an understanding of the program and tools, and to enhance their motivation to determine if they choose to pursue abstinence.
In addition to the Cost/Benefit Analysis, program tools include the Change Plan Worksheet, ABCs of Rational Emotive Behavior Therapy (for both urge coping and emotional upsets); and DISARM (Destructive Images Self-talk Awareness and Refusal Method).
Meetings last 1.5 hours and are designed to be highly interactive. It's often said by facilitators that the meetings that they feel have been most advantageous to the participants are those in which the facilitator seldom had the need to speak. Members are encouraged to share their personal experiences during meetings and discuss the tools that (1) help them personally on an ongoing basis and (2) allow them to help a fellow member who is seeking assistance.
SMART Recovery® meetings follows an outline, which includes:
A welcome to attendees and an opening statement
Check-in (personal update)
Agenda setting
Working Time (focused on the 4-Point Program)
Check-out (meeting review and personal plans for the week)
Socializing (announcements, publications purchase, Q&A, meeting verification forms, general socializing)
SMART Recovery® is almost entirely operated by volunteers, whose primary activities are facilitating face-to-face and online meetings, and providing additional recovery support via the SMART Recovery® website message boards and chat room.
The last sentence in our Mission is: To support the availability of choices in recovery. We are grateful for the opportunity to acquaint you with our organization, and we invite you to participate in our online services, face-to-face meetings – or to volunteer to start a meeting in your community! We are confident that you will find participation in SMART Recovery® to be a most worthwhile and rewarding experience.
Contact information: SMART Recovery®, 7537 Mentor Avenue, Suite 306, Mentor, OH 44060; Phone: 440/951-5357; Toll-free: 866/951-5357; Email: information@smartrecovery.org; website:www.smartrecovery.org.
Our graduates tell their stories…
When first arriving at St. Gregory I had mixed feelings about the health and wellness workouts. I came in at 136 lbs and didn't think it was possible to reach...
- Chris
The good life is not merely a life free from addictions, physical and/or psychological—addictions that usually are the outward manifestations of deeper problems—but a life lived in harmonious balance, free...
- Matt
I came to St. Gregory's at my all-time worst—physically, emotionally, and mentally. Having gone through a bad rehab experience once before, I had been very reluctant in succumbing to that...
- CJ
No matter where I start my thought process when reflecting upon my time before, during and after St. Gregory's, I always seem to end up in the same place in...
- Kaele